USA Dance vs NDCA
25 April 2016
In America, there are two major organizations that sanction competitions, USA Dance and the National Dance Council of America (NDCA). USA Dance is the United States member organization of the World DanceSport Federation (WDSF), and the NDCA is the United States member organization of the World Dance Council (WDC). If you read Ballroom Guide Ballroom Blog's post from April 4th, you will know that these two global organizations haven't been particularly kind to each other in the past, and likewise, their member organizations in the United States follow suit.
NDCA
The NDCA is an organization that sanctions competitions and licenses judges. The NDCA as a whole does not host competitions, but allows members to host their own competitions, and have those competitions sanctioned by the NDCA. When a competition is sanctioned, that competition may use judges who are members of the NDCA. Sanctioned competitions have events for Amateurs, Professionals, and Pro/Am couples (Amateur dancers who pay their Professional teachers to compete with them). The NDCA is currently the only organization in the United States that offers Professional competitions. Additionally, NDCA competitions often generate a lot of money for the host of the competition. These competitions charge high rates, but also hosting competitions in luxury hotels and offering thousands of dollars in prize money to the top dancers. The NDCA is closely affiliated with Arthur Murray and Fred Astaire.
USA Dance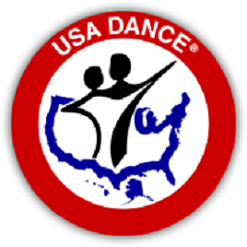 USA Dance is an organization, made up of over 150 individual chapters across the country. Each chapter is made up of volunteers who donate their time to host social dances, workshops, shows, and competitions. The chapters themselves and USA Dance as a whole have democratically elected presidents, secretaries, treasurers, and other roles. All members of a chapter can vote for the person they think would best suit the job in their own chapter, and all USA Dance members across the country can vote for the people who will hold national roles. USA Dance has historically catered to Amateur dancers. The only Professionals USA Dance allows to compete in their competitions are teachers dancing with their students in a special event called Student-Teacher (this is like Pro/Am, but here the teacher may also be an Amateur). USA Dance has also, since its inception, tried to get Ballroom Dancing into the Olympics.
The Current Situation
In 2014, the NDCA announced that any of its licensed officials (i.e. judges, scrutineers, etc.) who participated in non-NDCA sanctioned events would not be allowed to renew their memberships. Effectively, this meant that if anybody judged a USA Dance competition, they would be kicked out of the NDCA. This threat was very effective for most judges, who make a lot of money from judging at NDCA competitions or from hosting their own NDCA-sanctioned competitions. As a consequence, many judges left USA Dance completely. Some judges ignored this, but at the end of 2015, the NDCA released a signature addendum [which can be found here], finally putting an end to those few disobedient judges. This has left USA Dance with a shortage of top-tier judges.
Thankfully, there are currently no penalties for couples who choose to dance in competitions hosted by USA Dance and competitions hosted by the NDCA.
Update: Every fall the Ohio Star Ball (an NDCA-sanctioned competition) would partner with USA Dance to host the National Collegiate DanceSport Championships in Columbus, Ohio. Although listed as a USA Dance competition, the space was provided by the Ohio Star Ball, and half of the judges were chosen by each organization. In the fall of 2016, it was announced that the NDCA had forced the Ohio Star Ball to sever ties with USA Dance, and now the competition has been replaced by the Ohio Star Ball Collegiate Challenge, without any participation from USA Dance.